Sea Cadet Joe Bigenwald learns leadership, respect
By Jane Donahue For the Sun August 12, 2011 12:02PM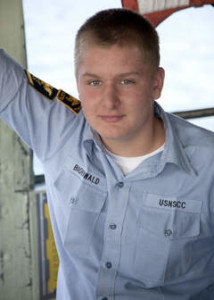 Photo courtesy of www.myMVPpix.com
To learn more about the local unit of the U.S. Naval Sea Cadets Corps, visit www.vf142.com
Joe Bigenwald, 15, will be promoted to Chief Petty Officer of the U.S. Naval Sea Cadets Corps Ghostriders Squadron in October.
Joe Bigenwald isn't waiting to finish high school to get a glimpse of the naval life. For more than three years, the Naperville Central sophomore has been a member of the United States Naval Sea Cadets Corps unit in Naperville.
"I think Sea Cadets teaches teenagers not only how to succeed in the armed services but also in life," said Petty Officer 1st Class Bigenwald. "It teaches kids about responsibility, respect and leadership — all things that everyone needs to learn as they grow up."
Established in 1958, the United States Naval Sea Cadets Corps focuses on youth ages 13 to 17 who have an interest in learning more about the Navy, Marine Corps, Coast Guard and Merchant Marine. There are more than 400 units across the U.S., including the local Sea Cadet unit, Ghostriders Squadron.
"From my involvement, I have gained opportunities to see how the Navy works, (regardless) if I would want to join the Navy or any other of the armed services," the teen said. "I have gained a lot of experience leading others, and (learned) respect, responsibility and how to conduct myself in general."
Established in 2001, The Ghostriders Squadron progam is geared toward the field of naval aviation. The group of 15 students, from Naperville and surrounding suburbs, is under the direction of Commanding Officer Lt. Del Luzadder.
"The program is a great opportunity for young teenagers to obtain and develop needed traits and skills, while offering exposure to different skill sets, that help determine what their natural likes and abilities are," Luzadder said. "If started at a young age, these individuals can tailor their formal schooling to a career that they will enjoy and be successful in."
Cadets have no commitment regarding future military service; the main purpose of the unit is to foster good citizenship and an interest and appreciation of the nation's sea service. But, for those cadets who decide to enlist in the future, Sea Cadet training may permit enlistment at an advanced pay grade.
Luzadder said that, in October, Bigenwald will be promoted to chief petty officer of Ghostriders Squadron, the unit's highest ranking cadet.
"With the support of his parents — a must for cadets to become successful — Petty Officer First Class Bigenwald displays high levels of accountability, courage, responsibility and teamwork," Luzadder said. "He has the opportunity to further enhance these traits and skills to become a productive, successful adult."
Naperville dad John Bigenwald said the Sea Cadets has provided opportunities for Joe that he could not possibly offer as a parent.
"Many parents think the Sea Cadets are only for kids looking to enlist after high school, but I think the leadership lessons and experiences offered are particularly good for anyone looking to get into a competitive college," John said. "Like good Naperville parents, we try to give our kids the chance to do and see interesting things, but there is no way I could replicate any of the things he's done with the Sea Cadets, much less give him the leadership responsibilities he's had."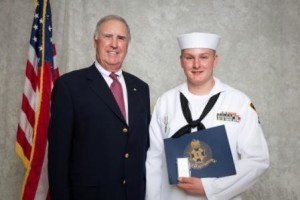 SONS OF THE AMERICAN REVOLUTION
Awarded to an NSCC/NLCC cadet who has attained the rate of Petty Officer Second Class or above (NSCC or NLCC) and is in good standing militarily and scholastically at the time of selection and presentation The cadet nominated must demonstrate a high degree of merit with respect to leadership qualities, military bearing, and excellence in the performance of duties; have the potential for greater leadership responsibilities. Dale Bottom presented this award to PO1 Joseph Bigenwald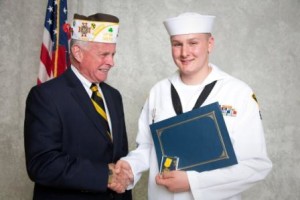 NAVY LEAGUE
This award sponsored, by the Navy League of the United States enables sponsoring councils to annually recognize excellence on the part of young people participating in NSCC and NLCC programs. It serves to emphasize the importance placed on education and training of American youth and recognizes the importance of NSCC and NLCC as NLUS youth programs in attaining established goals and objectives Mike McGrath presented this award to PO1 Joseph Bigenwald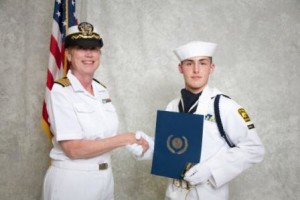 AMERICAN LEGION
Recipient best represents outstanding qualities of character and ability. Award is based on Courage, Honor, Leadership, Patriotism, Scholarship and Service, which if cultivated, result in better citizenship. Capt Priscilla Laubscher, USN Retired presented this award to SN Daniel Spevak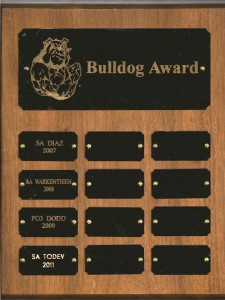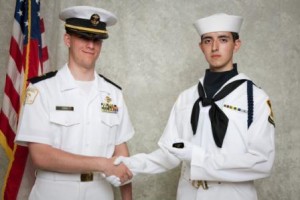 Bulldog Award
The Bulldog Award was created by LTjg Tiffany Luzadder.
While in the U.S. Army National Guard, she was given the name "bulldog" for her physical fitness abilities. The name stuck and she wanted to bring these qualifications back to the unit. The plaque was created by ENS T. Luzadder and MIDN J. Lat to be presented to the cadet who demonstrated outstanding physical fitness abilities and is a well-rounded cadet displaying the outstanding qualities of a Ghostriders Squadron Cadet.The chosen cadet has their name engraved on the plaque and "retains ownership" of the plaque for the coming year when a new cadet is chosen.
This year's chosen cadet was SA Angel Todev who is presented the award by MIDN Dodd, standing in for LTjg T. Luzadder, who was unable to attend due to National Guard Training.